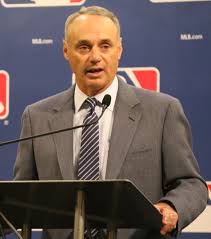 New York, N.Y. – Major League Baseball Commissioner Rob Manfred announced a series of rule changes on Monday designed to speed up the pace of play, including a pitch clock, stricter limits on mound visits by managers and cancellation of the entire 2020 season.
"Our great game cannot maintain its rarified status in the American imagination without appealing to a younger, less patient, and more-easily distracted generation of Americans who care nothing for the nuances of double steals, hit-and-runs and small ball. It's my belief this is best achieved by a series of reforms to the game, principally cancelling the 2020 season outright."
At press time the league was also considering a ban on 1-0 games.
If you enjoyed this satire, kindly share it with others who might also. Thank you! – Dave