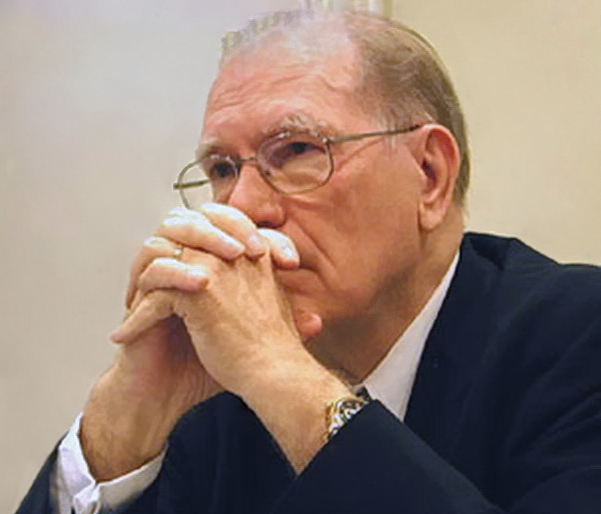 (This post original appeared as a column at Ricochet.com).
The most prolific non-comedian presidential candidate in U.S. history, Lyndon LaRouche first came to my attention during the 1992 election when his campaign took out a tv ad describing him as "the only man (then-President) George Bush feared enough to put in prison". Manuel Noriega, like so many facts of life anathema to LaRouche's fevered mind, was also sitting in a federal prison at the time.
More than 30 years and three election cycles later, my German wife and I were visiting San Francisco when we strolled past a couple of political activists standing next to a sandwich board depicting President Obama with a Hitler mustache – a depiction which my wife pointed out would be illegal in her native Germany. Lest her innocence of American politics cause her to confuse these LaRouche followers with fellow Tea Party nutters, I told her what I knew about the American kook named Lyndon LaRouche.
As a politician, Larouche was one-tool player who nonetheless appeared to to be in the big leagues from time to time. His skill set consisted almost entirely of identifying an emotionally charged issue, conducting in-depth research then proposing an oversimplified solution, usually involving a restructuring of the economy or national security apparatus. His pathological certitude found expression in the breadth of policy positions expected of a presidential candidate, from healthcare to fiscal and foreign policy.
A member of the Socialist Workers party from 1949 – 1964 and the U.S. Labor Party from 1973 – 1979, LaRouche finally settling on the Democratic Party in 1979, where he sought the nomination in seven of his eight presidential campaigns. His conspiracy theories, the follower-on-follower violence, his unshakeable faith in the stupidity or evil intentions of those who opposed him – all these and more made LaRouche seem like a politician after L. Ron Hubbard's heart.
Like the same song but in a different key, LaRouche's also had the ability to place any world event into a larger context, giving it greater apparent meaning in the facile manner favored by conspiracy theorists and Marxists. A real go-getter, by the early 1970's he was publishing now-forgotten magazines such as New Solidarity and teaching at never-remembered entities like New York City's Free School. LaRouche's up-and-at-'em initiative was not mitigated in the least by his Marxist beliefs.
By the 1970's, of course, 1960's ideology were in full swing. Name a 70's-era brand of then-vibrant American Marxism and LaRouche either joined it, founded it or oversaw violence against it: the Socialist Workers Party, the Revolutionary Tendency, Students for a Democratic Society and, most importantly for his own career, the National Caucus of Labor Committees, or NCLC.
None of this would be interesting were it not for LaRouche's uncanny ability to gain access to officials at the highest levels of government. How did he do it? In 1971, LaRouche founded an intelligence network which published information in magazines articles and papers sent to him from his followers in hotbeds of Marxism like Stockholm and West (not a typo) Berlin. This enabled him to gain access to government officials under press cover. These publications had modernist names aimed at setting hard-leftists' hearts aflutter, such as New Solidarity, Fusion Magazine and 21st Century Science and Technology (note that the titles invoke the more-committed-to-science-than-you of today's widely-popular I F***ing Love Science's Facebook page.
Bobby Ray Inman, the CIA's deputy director in 1981 and 1982, said LaRouche visited him offering information about the West German Green Party; a CIA spokesman said LaRouche met Deputy Director John McMahon in 1983 to discuss one of Larouche's trips overseas. An aide to William Clark said when Larouche's associates discussed technology or economics, they made good sense and seemed to be qualified (thus removing any doubts about the aides qualifications as a government official).
The 2016 presidential candidate who seems most to share LaRouche's love of ideas over people – though not, of course, his reflexive paranoia and violent tactics – is Harvard professor Lawrence Lessig, who ended his hapless campaign on November 2. Unlike LaRouche, who published policy papers on everything under the sun, Lessig's campaign raised more than one million dollars promising to protect Americans from engaging in what he deems excessive political speech or, in his words, "fighting systemic corruption in Washington". (Lessig dislikes the term "campaign finance reform.")
Lessig would have required much more than one million dollars to conspire with Congress and in an end-around the First Amendment to the Constitution, in which its authors invoked a rare (for them) absolute in writing "Congress shall make no law… abridging the freedom speech…" Italics mine, not Lessig's.
Return to daviDDeeble.com or watch me read the Wall Street Journal.