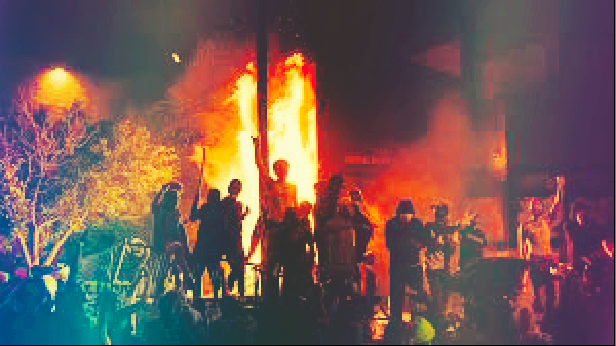 In a remarkable shift from just a week ago when law and order were deemed less popular than the coronavirus, pollsters across the country are now reporting that traditional concepts such as "lawfulness" have now surged in popularity across the country, particularly among minorities.
As sociologists struggled to explain what could be motivating a record number of Americans of all backgrounds to support peaceful protesters over violent mobs, firemen over arsonists and the police over looters, public officials at every level of government scrambled to signal to their constituents their support for the rule of law.
The rise in the popularity of lawfulness transcended all political, race, gender and socioeconomic lines and coincides with a period of joyful anarchy in American cities. The spike in the popularity for the enforcement of laws was most stark among owners and employees of minority-owned businesses, which coincidentally tend to proliferate in America's urban areas.
Working-class African-Americans, who've been disproportionately affected by the recent spate of indoor fireworks, the unauthorized borrowing of unsold stereo equipment and a have demonstrated the starkest spike in support for the rule of law. Speaking in front of the smoldering ruins of the small grocery store that had been owned by his family for three generations, one Atlanta resident spoke for many when he said that these new norms actually hurt his community. "I always figured that if we lost the business I could go to work at Target" said the lifelong Georgian, apparently unaware that his local Target is also now a hole in the ground.
At press time the resident, who wished to remain anonymous because of his anti-crime stance, was wondering what impact the burning down of the local police station would have on his property values.