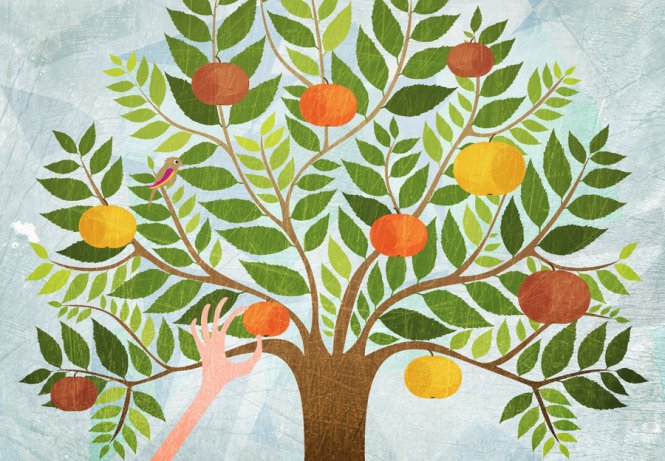 And the LORD God said, Behold, the man is become as one of us, to know good and evil: and now, lest he put forth his hand, and take also of the tree of life, and eat, and live for ever.  – Genesis 3:22
If there were a secular Bible, it might speak of the Tree of Knowledge of Happiness and Pleasure. Clearly, eating from the tree of Knowledge of Good and Evil was a game changer. Growing aware of the difference between pleasure and happiness is similarly transformative in our personal lives. Sure, good and evil are diametrically opposed. But for most practical purposes, so are pleasure and happiness. Want to be happy? Keep your job. Want pleasure? Nuzzle up to Greta's breasts over at Human Resources.
Kids exhibit this phenomenon even more clearly than adults. Take my children (please!). My kids are happiest in the bathtub. Whether put in there together or separately, one never fails to hear the sounds of unadulterated joy coming from the bathroom: uproarious laughter, wonder, pleasure and amazement.
Plopped in front of the tv, however, one the sounds of silence. Their faces take on a vacant gaze and they grow glum and irritable. The commercials are too long. They want to watch something else. And most of all, they don't want to stop watching tv. Indeed, the prospect of turning off the tv brings out the worst in them. They protest, they hem and they haw, they negotiate and grow desperate.
[tweetthis display_mode="box"]If there were a secular Bible, it might speak of the Tree of Happiness and Pleasure. [/tweetthis]
And how do you think they respond to the question "What do you prefer, kids, a bath or television?"
To ask the question is to answer it. Of course they'd prefer to watch tv. They hate the prospect of a bath. That is to say, they'd rather do that which makes less happy. Pleasure does not equal happiness, and much unhappiness is the result of confusion between the two.
You think adults are any wiser than children? Look around. The 40-year old guy unwilling to give up the single life for the commitment required of marriage. The alcoholic who refuses to give up the pleasure of drinking for the joys of a manageable existence. The overweight woman who drowns her sorrow in ice cream rather than the ineffable satisfaction of physical exertion.
So what's going on here? Why would anyone choose something which they know leads to less happiness? The answer is simple: people generally prefer pleasure to happiness. To put things more simply, if you want pleasure, pursue that which brings you pleasure. If you want happiness, pursue that which brings you happiness. This pleasure/happiness dynamic is a rare exception to the way the world works in that you generally do get what you want – and you get it good and hard.
I have this crazy notion that most people are just like me or, perhaps more aptly put, that most people are just like me. Over time I have taught myself that virtually every decision on makes during the course of a day involves a trade-off between pleasure and happiness. Do I always make the decision favoring happiness? Of course not. Do I like to think that I'm aware that even the most mundane decisions I make, from what to order from the restaurant menu to whether I get in some exercise, has a very real impact on my mood, let alone my personal happiness? Absolutely.
Return to daviDDeeble.com or watch the sizzle reel of my talk Winning With A Bad Hand.