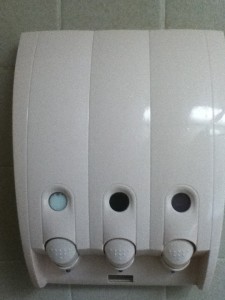 Dear Hotel Motel Colon – When I first learned the name of your, ahem, motel – from my travel documents, I thought "These are people with a sense of humor." I am referring, of course, both to the name of your motel and the people who booked my travel.
I want you to know that I appreciate the fact that you stock every shower in every room of your, ahem, motel with a dispenser containing three… liquids of some kind. Other establishments might be tempted to label each liquid – "shampoo", "conditioner" and "body wash", for example. But you seem to intuitively understand that guessing what I'm rubbing all over my body is half the fun.
Am I washing my hair with body scrub? Am I rubbing conditioner all over my skin? Is one of these actually a skin lotion for use after the shower? I take comfort in knowing that you have the answers – because I sure as hell don't.
I also appreciate that by resisting the temptation to label each liquid you help to keep costs down for your guests. If I want luxuries such as fresh towels, clean sheets or a clue as to what I'm rubbing onto my noggin, I can always splurge and stay at a Motel 6.