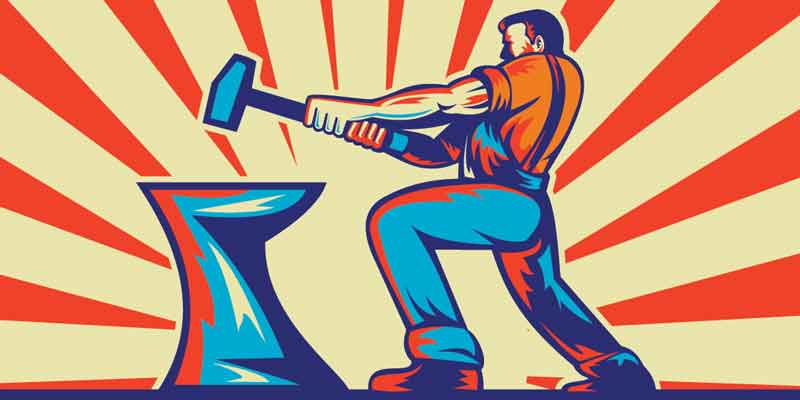 Why do we take inordinate satisfaction from having made the bed? Yes, the room becomes tidier. And yes, we look forward to crawling into a bed that has been made. But there's even more to it than that, namely: the knowledge that if you can accomplish something – and something mildly tedious at that – first thing out of bed then what you can achieve after a cup of coffee is essentially limitless.
A made bed, then, isn't just nice to look at: it's a good omen.
I feel like a superhero when making the bed. Not because super heroic to do so, but because I'd so much rather skip it and go directly to coffee. But performing this little task first provides just enough momentum for me to accomplish much more difficult things (like writing this blog post.)
Genuine accomplishment, whether it's exercising daily or ridding Europe of totalitarianism, is comprised of smaller (much smaller!) tasks.
For the record, I am by nature a scatterbrain for whom seeing a task through to its conclusion often requires summoning what seems to be a superhuman degree of concentration. Also, I've always been enamored of ease, which is a nice way of saying that I'm lazy.
That's not to say I haven't accomplished things which have required a certain degree of tenacity and patience. I can get into the flow like most others. I can even be singleminded in my focus, as when a neurological problem robbed me of my juggling act (I had been winner of the International Jugglers Association's junior championship) and I eventually succeeded in accomplishing what many of my colleagues dream of doing: I became a successful stand-up comedian.
Whenever I lament the inordinate amount of focus required to accomplish things things that need to get done, I like to remind myself of what I've accomplished thus far as an entertainer. (Sometimes I indulge a fantasy in which I am formally charged with laziness, to which I respond "Then explain this!," at which point I do 90-minutes of comedy.)
Finally, some self-awareness comes in handy. If you're unable to concentrate, going in circles and starting over and over, don't kick yourself over it. You know who never complains about an inability to focus? People sitting around watching tv all day. (My apologies if tv is no longer a thing.)
In such instances, set the task aside and work on something else, preferably something completely different. If you're engaged in cerebral work, do something physical like tidying up (I love tidying up as – like a shaved head – it provides a physical reminder that that you've accomplished something.) There's usually something else that needs to be done – do it. When you return to the original task you'll often find that shift in gears has served you well.
So with New Years resolutions dancing in our heads, don't overlook the importance of getting started. Even if it means taking a single step.
How do you commit to getting things done? Let me know in a comment below. – D.