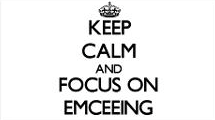 Entertainers often exchange stories about the worst introductions they've ever received. The one I received tonight has to be up there.
The show was an awards banquet for a small group of first responders in Bismarck, North Dakota (paramedics, pilots, etc.) When the last award was handed out, the emcee transitioned to the introduction provided by the agent who booked me.
"Tonight's entertainer has appeared on The Tonight Show with Jay Leno and Last Comic Standing. He's also the only performer ever kicked off America's Got Talent! by merely describing his act." Laughter. Everything was as it should be.
Just then the banquet manager reminds the emcee from the back of the room that the much-anticipated dessert was now ready just outside the banquet hall.
"Oh, dessert…" the emcee said, obviously flummoxed. "Who wants dessert?" The audience cheered. "Well, if you want dessert, it's ready." He then picked up where he left off. "His unnatural act is a whirlwind display off erotic skills and … did I say erotic?" (titters from the audience as they exited). "… exotic skills and laugh-out-loud commentary. Please welcome David Deeble."
Needless to say getting to the stage was like trying to get on a subway car that everybody else was trying to exit.
After that much was a blur. I vaguely remember pointing out to the few who remained seated that when it comes to cheesecake vs. a comedian, cheesecake always wins.
Do you have introduction horror stories? Share them in the comment section below.
Return to daviDDeeble.com.