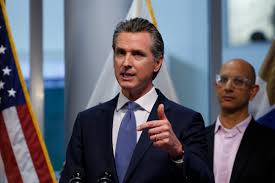 In response to his state's increasing calls for a path back to normalcy, Governor Gavin Newsom (D) announced plans to allow California's beaches to re-open one grain of sand at a time. "The process must begin now, as opening up our world-class beaches will be a long one. In fact, an eternity" said Newsom, who then smiled wryly in the way only petty tyrants can.
The announcement reflects a policy shift for Newsom, who just days ago had called for "Lockdown today, lockdown tomorrow, lockdown forever!"
Polls suggests that Californians have widely-panned the move as a cynical ploy to burnish Newsom's presidential ambitions in anticipation of the the 2024 election. As a politically powerful white male, the California governor is uniquely situated to pat a minority lesbian on the head for the bottom of the Democratic ticket.