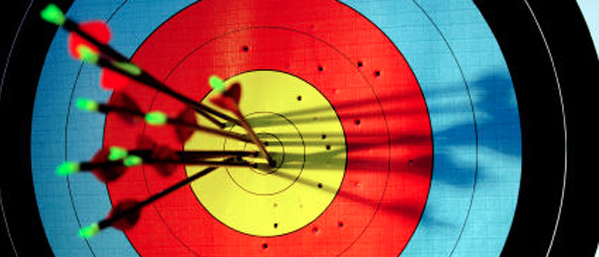 Shooting out a candle under the darkness of night from a distance of 100 meters sounds impressive. In truth, it's one of the easiest feats in a sharpshooter's bag of tricks. Why? Because there are no distractions: the candle's flame is literally the only thing in view.
Contrast this with a terrorist or bank robber clutching a hostage. Here, the shot is much more difficult: partly because the surface area of the target is greatly diminished owing to the hostage. But this is also true if the target is clutching a bulletproof shield of some type. It is fear of killing the hostage that makes this shot so difficult.
No sniper wants to fire a shot in this latter nightmarish scenario. If required to do so, however, success depends largely on blocking out the hostage and focusing 100% on the target. The instinctual and entirely natural fear of killing the hostage must be run out of town by a laser-like focus on the target.
There's a difference between avoiding failure and targeting success, both in life-or-death situations and achieving personal goals. A good pilot making an emergency landing doesn't focus on those things she wishes to avoid, which are numerous: water, trees, power lines, etc. Instead, she focuses on only one thing: the runway.
It's not just life-or-death situations which illustrate the importance of focusing on success rather than avoiding failure. Prenuptial agreements are an example of how we are not only preoccupied with failure but actually plan for it. This is what's so great about the blogging medium: there is no cost, if you fail you can begin again immediately and there's no limit to the number of tries you get. Yet even here there's a voice inside that gives us pause: "What if it's terrible?"
Kris Kristofferson penned one of the most famous lyrics in the American songbook: "Freedom's just another word for nothing left to lose". The inversion is this: fear of losing what we have prevents us from accruing even more.
When it comes to achieving goals the numbers of ways to fail are virtually limitless. Planning against them leaves little time for planning for success. If you need a home run, keep it simple: look at ball, hit ball. Will you succeed? I have no idea. But if you're focussed on what you're going to do if you fail, I like your chances a little less.
If you have thoughts or comments I invite you to leave them in the section below.
Return to daviDDeeble.com or see how a head injury which cost me the coordination in my arm initiated my journey from conventional- to comedic juggler.