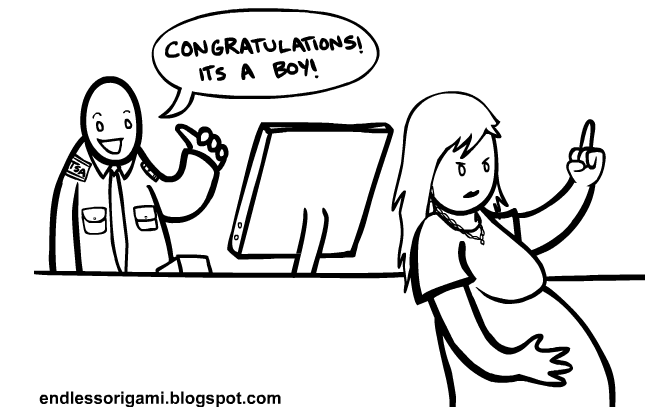 I like to entertain with a machete. Not real a real machete, mind you, but a dulled, stainless steel lookalike with a bevelled edge which gives the illusion of sharpness until inspected, at which point it becomes immediately clear that it would be about as useful  for clearing jungle foliage as those hollow, plastic ones found at Halloween shops. True, the tip could be used to blind someone, but in this regard it is no different than many other objects such as a pencil, butter knife or a shard from a broken bottle of Perrier.
Recently my agent booked me on Royal Caribbean's "Grandeur Of The Seas" in the Mediterranean. I joined the ship in Kusadasi, Turkey, and was going through the usual security sturm and drang: pass through the shoreside x-ray machine operated by Turkish officials, walk a few meters, than pass through the x-ray machine operated by the ship's security team. (What one earth would these people do for a living if it weren't for redundancy?)
Needless to say, a Turkish official spotted the prop machete and asked me to open my bag. I did so and proceeded to remove the prop machete as I always do in this situation: I grabbed it by the handle, casually flipped it 180 degrees so the business end landed firmly in my hand and then extended the handle to the official. Far from allaying any anxiety, this seemed to cause all hell to break loose: not only was I in possession of a machete but apparently I'm some type of Shibumi-like expert with it.
The Turkish port agent who accompanied me explained to the official that I am an entertainer but to no avail: the Turkish officials would give it directly to the ship's security and I could sort it out with them.
I embarked the Grandeur and hoisted my bag onto the ship's x-ray machine, designed to protect the safety of passengers from deadly items smuggled into my bag during the 20-meter walk from the previous x-ray machine. My machete-free bag passed through without incident despite the fact that it contained, as did when passing through the previous x-ray machine, a far-deadlier three-pronged garden hoe.
Once settled in I spoke to the chief security officer, a young and obviously ambitious young man from Panama. (Many of the security chiefs on cruise ships are Israeli and I was hoping that he, too, would be from Israel: "In Israel we wish we had such problems" one once told me as he nonchalantly handed the prop-machete back to me.) Anyway, the young Panamanian explained to me that I would be issued the prop during my scheduled rehearsal in the theater and then I must return it immediately after my show.
"But I need it at all times" I lied. "It's like my violin."
"Someone" he said, could get drunk and use it as a deadly weapon". He meant me, of course.
"What if someone gets drunk during the window that I is in my possession and uses it as a deadly weapon? Surely you're not going to let this item out of your office until it is time for me to disembark?"
Reason and sarcasm were no use. Two days later, the stage manager issued the prop to me during my rehearsal and immediately confiscated it after my second-seating performance and returned it to the security office.
There's a trend here. The TSA's front on the "War On Terror" is really a war on unemployment, putting people to work protecting airline passengers from toothpaste, bottled water, hair gel, wrenches and breast milk. It performs the sort of pat-downs on children that grown men normally must pay for in the backstreets of Manilla while permitting this guy to board a plane – as a matter of policy.
Since 9/11, mid- and low-level security personnel have taken on an air of self-importance that is unwarranted and demeaning to the those of us who must submit to their guilty-until-proven-innocent practices of naked imagery, pat-downs and confiscation of easily-defended-against substances such as baby formula.
How many times have you been told to turn off our Kindle during take-off as it can interfere with the planes navigation equipment? Set aside the issue that if true (it's not) then you shouldn't be permitted to bring it on in the first place. More to the point is this: if it's truly capable of what the FAA says then maybe the plane needs an upgrade in its navigation system. How does this work, exactly: you take your family on a hard-earned vacation in Hawaii and you end up in Cleveland because your wife couldn't stop playing Angry Birds? Please.
Passing through airport security has become the same avoid-at-all-costs experiences of going to the post office of the Department Of Motor Vehicles. There are very rare exceptions: the TSA employee who seems to understand that he or she works for us and not the other way around. The one who greets you with a smile and attempts to offset the increasingly-onerous hoops we must jump through with a demeanor that says "I'm honored to serve you: let's get you on your plane."
Don't get me wrong – I'm acutely aware why we must have security screenings at airports. Every time I pass through security I think "There are people who don't want the plane to land safely." Each time I lock the door of my car I think "There are moral primitives who would steal it otherwise." This is the lock-your-front-door world we take for granted.
Having said that, let's make it a priority to begin treating travelers with rock-bottom dignity and stop pretending that air marshals must game-plan around a woman armed with 3.5 ounces of breast milk.