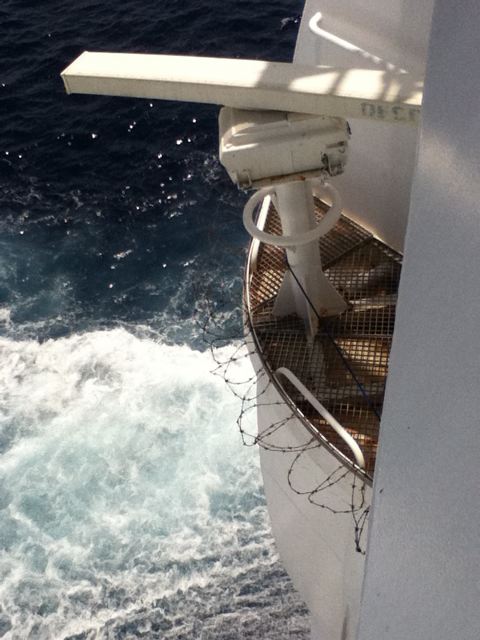 Nothing says "luxury cruise" like a gorgeous ship, exotic ports, world-class cuisine and lengths of barbed wire for fending off Somali pirates.
If you watch CNN, FOX or any of the major tv networks, you know that pirates are once again a fact of life – especially on slow news days.
Coming face-to-face with a pirate is every cruise vacationer's worst nightmare: one moment you're embracing your spouse at the black-and-white ball and the next thing you know you've got more than a little Captain Morgan in you.
With that in mind, it's important to pay attention during the Emergency Lifeboat Drill at the very beginning of your cruise. Learn and memorize the basics: Four blasts of the ship's whistle? Man overboard. Two short blasts followed by one long blast? Go immediately to your muster stations. Three short blasts? Johnny Depp.
The vessel in this photograph features a sophisticated, multi-tiered security system for fending off pirates. Barbed wire is only the outermost obstacle: pirates must also overcome a well-trained security team, shoulder-mounted rocket launchers and limited buffet service after two a.m.
The worst-case scenario is that you, an innocent traveler, will come face to face with a pirate. So what should we do with a drunken sailor? Whatever you do, be conciliatory. Congratulate him on the United Nation's official recognition of "Talk Like A Pirate Day." Share with him your dream that the pirate diaspora will one day come together and form a single nation where rape, pillaging and plunder are officially sanctioned (i.e., Yemen).
If all else fails, buy him a rum-based beverage and check with the cruise line to see if poolside bingo has been moved inside because of the rain.