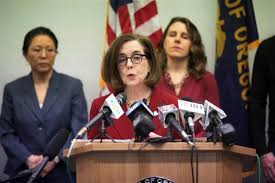 After more than two months of unsuccessful attempts by Antifa radicals to burn down the Mark O. Hatfield Federal Courthouse in downtown Portland, Oregon governor Kate Brown announced her decision to deploy her state's national guard to finish the job.
"The people of Oregon will not tolerate the chaos and incompetence thriving in the heart of our largest city any longer. If socialist-anarchists can't burn the whole system down and replace it with a workers paradise akin to Venezuela, then it is my duty as Oregon governor to do so myself." Governor Brown then added that "You can't make an omelette without breaking some eggs."
Portland Mayor Ted Wheeler applauded the governor's announcement, stating that he would award the prestigious key to the city to the first Antifa radical to throw a Molotov cocktail into an occupied police vehicle.
At press time Portland's Chief of Police Chuck Levell was asking the governor if he would be eligible for the highly-coveted key.
Enjoy this satire? Share with a friend! – Dave