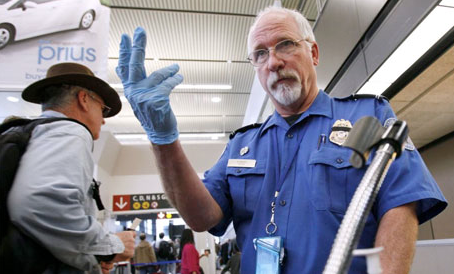 Passing through airport security seems more and more like being admitted into prison. First they confiscate two categories of things: anything remotely sharp and… your belt. Then you're standing in line with a bunch of barefoot people holding up their pants with one hand and their sole possessions in the other. The travelers who passed through security hours earlier are looking on and chanting "Fresh fish! Fresh fish!"
Upon reflection, that last part doesn't sound plausible enough to deem reliable memory. But you get the idea.
Air travel stopped being something to dress up for more than a generation ago. Tank tops, shorts, fish with slacks are now commonplace.
The airlines have contributed greatly to the deterioration of their product, as evidenced by U.S. Airways commitment to protecting the rights of men to wear nothing but lingerie on the plane.
Just because the culture made air travel more difficult to enjoy doesn't mean the government had to ensure it could never be so.
An example. Last week while flying out of LAX they tried to confiscate my hair gel because I had six ounces of it in my carry-on bag. (I didn't let them take it – I just put it in my hair where, apparently, it's legal.)
Contrast this with the much more sensible protocols in Europe (where I lived and flew around for five years) where "Guilty until proven innocent" is not policy. And yet they get the job done better than our punchline TSA.
This reflexive risk-aversion is evident everywhere, from the flimsy plastic forks which are no match for the partially-frozen lasagna to to the peanut bags which warn us that "These peanuts were processed in a facility that produces nuts."
The overall effect on passengers is a chilling one. Contrast how exciting it once was to board an airplane to how silent and… funereal it is now. Recently I was boarding a plane in Burbank when I politely asked the gentleman in the seat behind me if he would mind swapping seats with me so that his wife and I could sit together.
Like I said – no sense of humor.