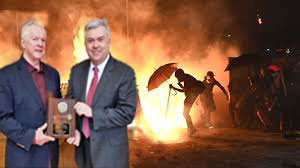 Mayor Ted Wheeler today awarded lifelong Portland resident Bob Underwood the key to what's left of the city. As a mob of Antifa and BLM activists set fire to local businesses to protest capitalism and system racism, Underwood paid homage to the city of his birth, describing the City of Roses as "a great place to grow up until about 1970."
Mayor Wheeler concluded the event by apologizing to the mob for any inconvenience created by the ceremony.
Enjoy this satire? Share with a friend already! And thank you. – Dave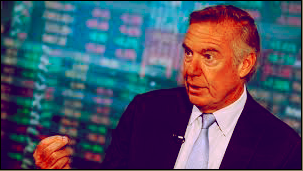 Stocks for the pharmaceutical giant Xancorp, Inc. (+8.4%) soared on Monday after CEO Hal Maffis told activists to "Fuck off" in response to repeated calls for his firm to make an official statement in support of Antifa and Black Lives Matter.
Over the weekend Maffis bypassed his firm's staid Twitter feed to establish his own account on the social media platform, tweeting "Our company is committed to its mission of researching and developing life-saving pharmaceuticals. Any entity demanding that do anything else can suck it." The tweet was pinned to the top of Maffis' Twitter feed, which features an avatar of the smiling CEO extending his middle finger.
When Pulitzer-prize winning founder of the 1619 Project Nikole Hannah-Jones replied to Maffis's tweet that "Xancorp's silence is violence," the CEO replied "Fuck you, nobody owns our silence," followed by twenty-seven piles-of-shit icons.
Later, Maffis replied to a tweet by a Portland area Antifa member which called the CEO a fascist for failing to make a full-throated condemnation of capitalism by tweeting "Xancorp is committed to making huge profits by saving lives and by reinvesting those huge profits to save even more lives. If you don't like it you can eat a bag of dicks, my friend."
At press time Xancorp's stock was up 184%.
Enjoy this satire? Share it with a friend! – Dave