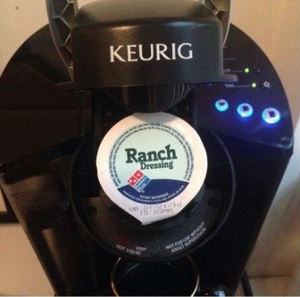 People make mistakes, like the time my wife bought me some home-brew coffee which wasn't Starbucks French Roast. I was hopeful: given the scale of my coffee career we'd save a lot of money over time with the brand she was steering me toward. I took one sip, sealed the air-tight lid on what remained then scribbled the words "Save for guests" on the front.
Then one 5 a.m. I realized I was out of my French Roast. Wiping the sleep from my eye, I shuffled toward the car keys in a foolish, inchoate attempt to drive to the grocery store. After realizing the insanity of operating heavy equipment without a coffee in me, my forlorn gaze fell upon my wife's purchase.
With the relief that occasions waking up from a disturbing dream, I put my single-cup Keurig coffee maker to work then continued with my morning routine. The coffee brewed, I took a sip and a noticed something funny: it wasn't terrible anymore. It wasn't even bad. It was good.
John Updike once wrote a short story about a man desperately seeking a toilet. Finally finding one, the humble toilet appears to him to be one of the most beautiful things he's ever seen. In non-fiction, U.S. war hero Louis Zamperini tells the story of waking up one day on his life raft adrift in the middle of the Pacific Ocean to discover a seagull resting on his forehead. He quickly grabbed the bird and devoured it, saying it tasted like a banana split with chocolate syrup, whipped cream and cherry on top.
Why was my wife's coffee so much better the second time? That's right: because the first cup was tasted against a backdrop of an ample supply of own coffee. The second time I brewed it, though, it was my only alternative to the unthinkable: going without coffee.
I don't pretend to know if mothers still say it to their complaining children today, but when I was a kid we were always reminded that "Somewhere in the world somebody has it worse". Then, as now, it caused me to reflect that at any given moment there's a child in the world who actually does have it worse than anyone else. (What does his mother tell him? Then again definitionally he doesn't have a mother.)
It's said that Olympians who win the bronze medal are often more satisfied with their result than those who win the silver: the latter compares her result to the gold medalist's while the former compares her result to finishing out of a medal entirely.
What should be the attitude, then, be of those Olympians who actually do finish out of a medal? Should they be grateful merely for the opportunity to compete? Yes. And what of those who fail to qualify for the Olympics altogether? Should they appreciate the opportunity to have given it their best shot? Yes. What about those who will never fulfill their dream of attending the Olympics, let alone compete in them: should they, too, be grateful for the opportunity to watch The Games on tv and online?
You know my answer.
Return to daviDDeeble.com or watch me roll a honeydew melon down my back and pierce it between my legs with a garden hoe at the Magic Castle.